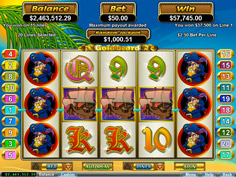 The goal of Goldbeard is to line up matching Symbols on the paylines. The default payline is located across the center of the reels and is labeled with the number 1. You can add or remove up to twenty paylines by clicking the up and down arrow on either side of Lines or clicking on the desired number directly. Each active payline becomes lit when active and dark when inactive.
To Play
Click arrows near Lines to add or remove paylines.
Click arrows near Bet to raise or lower your bet per payline.
Click Spin.
Click Auto Play to have the reels spin automatically based on conditions you set.
Payouts
All Symbols pay Left to Right except scattered Coins, which pay Any.
With

With

With

With

With

Symbols
5 of a Kind
4 of a Kind
3 of a Kind
2 of a Kind
1 of a Kind
100
N/A
20
N/A
5
N/A
1
N/A
N/A
N/A
2500
5000
500
1000
100
200
5
10
N/A
N/A
1000
2000
300
600
75
150
5
10
N/A
N/A
500
1000
150
300
15
30
2
4
N/A
N/A
200
400
25
50
5
10
N/A
N/A
N/A
N/A
150
300
20
40
5
10
N/A
N/A
N/A
N/A
100
200
15
30
5
10
N/A
N/A
N/A
N/A
N/A
N/A
N/A
N/A
N/A
N/A
N/A
N/A
2
N/A
Scatter
Scatter prizes are multiplied by total bet.
Substitute
Goldbeard only appears on reels 1 and 5 in normal games.
Goldbeard substitutes for all symbols except scatters.
The prize is doubled when one or more Goldbeards appear in a winning combination.
When one or more Goldbeards appear on both reels 1 and 5, each will reveal 2, 3 or 4 free games.
Goldbeards can appear on reel 3 during free games.
If Goldbeards occur on both reels 1 and 5 during the feature, additional free games will be revealed.
All wins are tripled during free games.
Free games are played at the lines and bet of the triggering game.
Paylines

AutoPlay and Options
Pressing "Options" will bring up the menu where you can enter your Auto Play parameters. Pressing "Auto Play" will automatically play games according to the options you have selected. Pressing "Stop Auto" deactivates the automatic play option.
Goldbeard Progressive Jackpot
The Progressive Jackpot can be won at the conclusion of any game. The jackpot is triggered randomly and is added to all other wins.
Other Rules
Wins on different lines are added.
Scatter wins are added to line wines.
Scatter wins are multiplied by bet per line.
Line wins are multiplied by bet per line.
Highest win only on each line.
Maximum win per paid spin is 50,000 times bet per line.
Casino Navbar
Switch to Real Money - When available in FUN mode, click Switch to Real Money to play with real money.
Balance - The Balance is the amount of money available in your account. You can use your balance to place bets.
Cashier - Click Cashier to deposit money, withdraw money, redeem coupons or review past transactions.
Menu - Click Menu to open the menu and access Autoplay Options and Player Options.
Autoplay Options - Click Autoplay to have the reels spin automatically based on conditions you set.
Player Options - Click Player Options to turn full screen mode on and off, adjust the volume, turn dealer voices on and off when available, adjust card speed, and configure Autoplay options.
Help - Click Help to open the help page for the game.
Back - Click Back to close the game and return to the casino lobby.
These rules are believed to be an accurate representation of appropriate game play. They may or may not contain errors and/or omissions. We reserve the right to correct and/or change these rules at anytime with or without notice to the player. Malfunction voids all plays and pays.